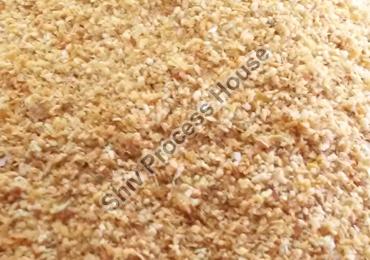 Dehydrated Garlic Granules is prepared from sound and mature farm-fresh garlic sourced from a reliable Dehydrated Garlic Granules Supplier. Bulbs of garlic are warped and broken into cloves with the use of slight pressure, and scrubbed manually or using machines to ensure removal of the skin and its separation from the cloves. These gloves are cut by machine into smaller pieces which are dried and dehydrated. These garlic pieces are then clean through a mesh to confirm uniformity, once the desired size is obtained.
Health Benefits of dehydrated garlic Granules:
Dehydrated Garlic comprises compounds with potent medicinal properties, such as:
Dehydrated Garlic is extremely nutritious but has very few calories and also comprises trace amounts of numerous other nutrients that our body needs such as fibre, vitamin C, B6, selenium and manganese.
Garlic can combat sickness, comprising the common cold and boosts the function of the immune system.
The active compounds in dehydrated garlic can decrease blood pressure and cardiovascular illnesses like heart attacks and strokes.
Dehydrated Garlic improves cholesterol levels, which will lessen the risk of heart disease and can lower total and LDL cholesterol levels.
Dehydrated Garlic also recovers bone health issues
Varieties of Dehydrated Garlic Granules:
Garlic Flakes
Garlic Powder
Garlic Granules
Garlic Chopped
Garlic Minced
Why I should favour dehydrated garlic instead of fresh garlic?
Dehydrated Garlic Granules stay longer than fresh garlic cloves that with time begin to bud. With its antibacterial effects, dehydrated garlic to helps decrease stomach infection though in a much more reduced form. Dehydrated garlic is suitable to use and doesn't need peeling and chopping. Using less dehydrated garlic, you get the nutrients that equal 6 raw cloves.
Dried garlic Granules improve the flavour and taste of any cooked meal that needs just slight browning and light toasting with oil/ butter or dry on its own that require only a few seconds. And, this adds excessive benefits to one's health too. Dehydrated garlic can be as good as fresh cloves and be a perfect substitute for them, only that it wants to be reconstructed in a bit of water before being added to any dish.
Another major benefit of using Dehydrated Garlic Granules over fresh garlic is that it is less disposed to burning while cooking. You can cook it directly in oil or butter for a little while until it turns brownish with the promise that it won't burn right away. And, for dishes like soups, stews, sauces or dips that need only a minute seasoning flavour of garlic rather than the key ingredient, then you have the option to select Dehydrated Garlic in the form of garlic powder.
A lot of care is taken to certify that the creativity of garlic which is its natural colour, aroma and taste are preserved during the dehydration process. So, nothing is lost. So, dried garlic is ideal for consumption by the health-conscious too.
Qualities of the Dehydrated Garlic Granules Supplier
Supplying Excellent Quality of Product,
Providing Fast and Safe Delivery,
Having Secure Payment,
On The Spot Response
Offering affordable Price